Acu-Rite MillPWR G2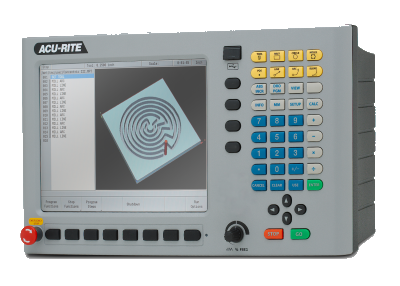 10 Reasons to Buy the Acu-Rite MILLPWR CNC Control System:
Conversational and G-Code Programming

The MillPWR System utilizes a machinist's type language - easy conversational program. Simple graphically-drive keystrokes. Built with convenience in mind.

Color 12" LCD Flat Panel Display

Immediately displays graphic view of tool path. Shows you the program as you create it.

Integrated Calculators

Great for math, right triangle and geometry assistance. The operator does not have to know geometry; the control calculates all of the geometry for the operator and places it in the program eliminating all guess work.

Go from Manual Operation to CNC in Seconds

All handles remain on the knee mill so the operator can go from running a machine in a manual mode to programming the machine in the CNC. All 3-Axis Retrofits can be operated as a 2-Axis with our quick Z-Axis disconnect.

Canned Cycles

Many common operations that are frequently used in the shop on a milling machine can be programmed by the operator by simply answering a few questions. Includes Custom Pocket, Island/Bosses, Slot, Ellipse, Spiral and four types of Bolthole Calculations just to name a few.

Teach Position

Use a tool, Electronic Edge Finder or Indicator to create a program from an existing part.

Explode

"Explode" a canned program step like Bolthole into more detailed steps for easier editing and secondary operations.

Linear Glass Scale Feedback

Standard on all X & Y-Axis MillPWR systems.

DXF File Input

Reduce programming time by loading part geometry from a CAD file.

Engrave

Simplified engraving capability with alphanumeric characters vertically, horizontally, diagonally or along an arc.
These above items plus Blend, Part Program Storage, Programmable Table Limits, 3-D Contouring, Scale Coupling, Program Merge, Help Screens, 3rd Axis Field Upgradable, Remote Stop/Go Switch and many more features come STANDARD in the Acu-Rite MillPWR system.
For a complete list of all of the Features and Benefits, see your MillPWR CNC Control Systems brochure, or download one below. Call and ask for a demonstration in your shop today!
View PDF File for Acu-Rite MillPWR Upgrade Flyer
View PDF File for Acu-Rite MillPWR Specs
Or, you can go directly to Acu-Rite's website to view more information.